The Launching Ceremony cum Workshop on Introduction to
Hong Kong's First "Distance-learning Course for incarcerated parent"
28/10/2020

Having a parent in prison greatly impact the development of the children. SRACP partnered with BGCA to launch a pilot project "Blue Bus Jockey Club Together We Grow Project", which is funded by the Hong Kong Jockey Club Charities Trust, to further expand the existing service, and to provide comprehensive one-stop service support for the children and youth, whose parents are arrested, incarcerated or ex-offenders, also their caregivers in Hong Kong to promote a positive parent-child attachment.
This year, with the support of the Hong Kong Correctional Services Department, "Blue Bus Jockey Club Together We Grow Project" officially announced to launch a programme "Distance-learning Course for Incarcerated Parents", which is the first of its kind in Hong Kong. This programme is designed to provide parenting knowledge and skills to incarcerated parents, so that they can better understand the developmental needs of their children, enhance the communication skills and help to rebuild a positive family relationship.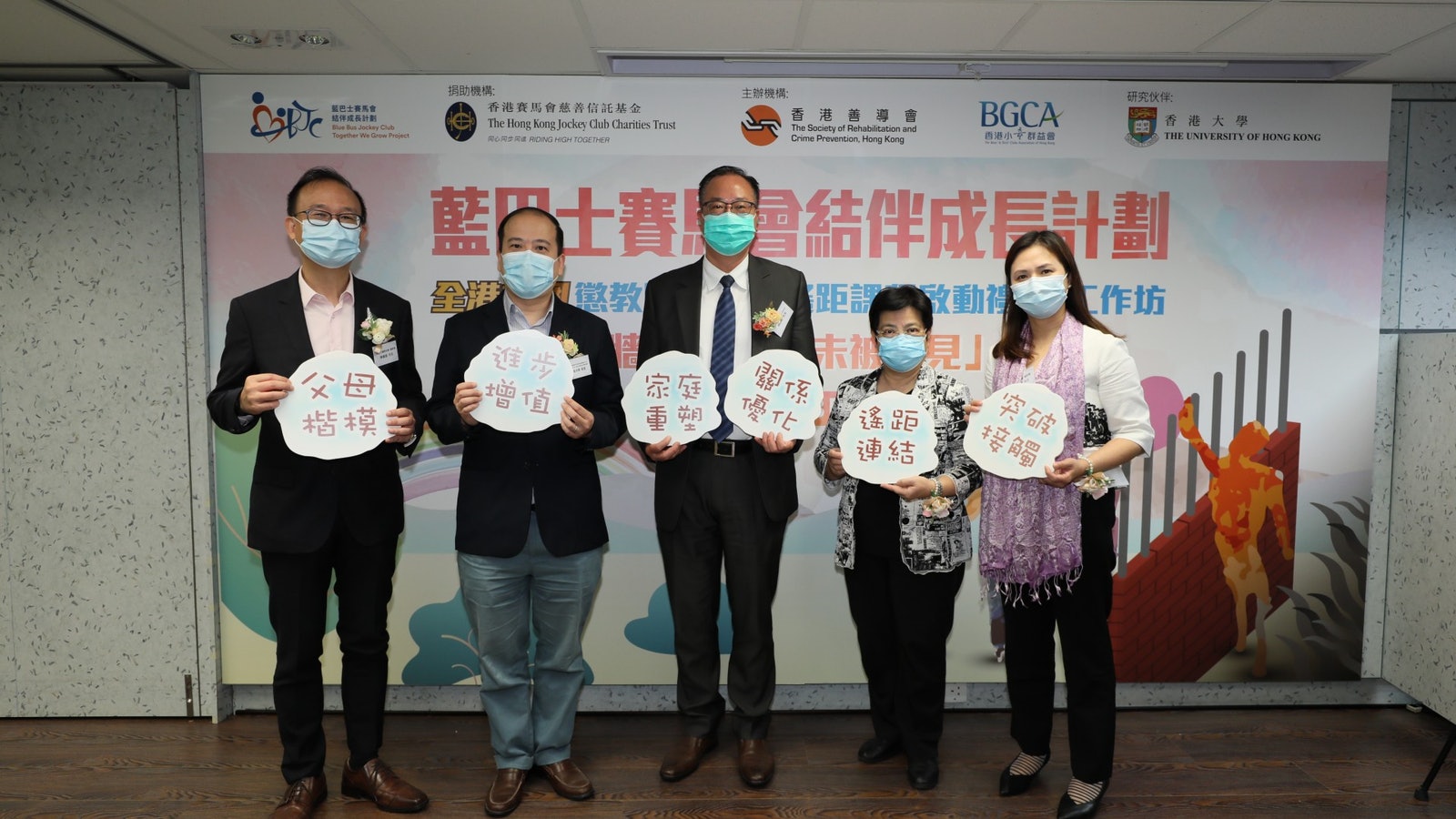 Photo: Officiating guests at the Opening Ceremony
For further information please click on the link below (Chinese version only)︰
AM730【親子溝通】藍巴士辦在囚爸爸遙距課程助加強親子溝通
信報 親子小組助在囚父重新出發
HK01 機構合辦懲教院所遙距課程 加強在囚父親與子女關係
東網 機構推「懲教院所遙距課程」 加強在囚父親與子女聯繫
經濟一週 【親子溝通】藍巴士辦在囚爸爸遙距課程助加強親子溝通

Press release (Chinese version only) and photos can be downloaded here